Haere mai
~ welcome, to Canterbury Technology unlimited start-up page.
Teena koe ~ thanks for being here.
E Tu, Waitaha kaatoa ~ Stand Tall, Cantabrians all.
Waitaha ~ the ancient name for Canterbury and its people
~ literally means "at Water's edge" ~
He mihi ~ greetings:
Ko Rangi ki runga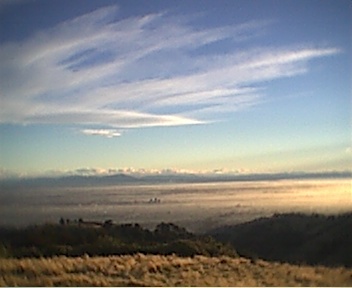 ko Papa ki raro. Teena koorua..
Northerly breeze after snow, rain and frost.
8:42am Mt. Sugarloaf. Cool-i-Cam digital camera.
Otautahi ~ Christchurch ~ 'home of Tautahi' ~ founding Chief
~ rises from Tangaroa ~ god of the Sea ~ mist
~ held by Port Hills, Southern Alps & Canterbury Plains
~ 22 June 2002 ~ year's shortest day.
Pai Matariki ~ Happy New Year ~ everyone!
~ Canterbury Technology is reborn ~
Hei aha ~ what is ~ Canterbury Technology?
"Ashburton, the centre for half of NZ's arable activity..
Chch electronics, home base for half of NZ's electronic engineers.."
and much, much more besides..
Source: Industry NZ "Clusters - alive and well in NZ" [migrated] ~03 > NZTE.
~ He tangata, he tangata, he tangata
~ It is people, it is people, it is the people
~ of regional industry.

He mihi nui ki Te Tonga ~ warmest greetings through Otago & Southland
On behalf of Nga Motu ~ the NZ isles ~ you soften bitter Antarctic deliveries
For your steadfast courage in the face of adversity,
You have our undying respect and heartfelt bond of kinship.
~ Teena koutou kaatoa, e hoa maa ~ acknowledging you, friends all ~

Focus on Canterbury high technology
"Govt gets behind lab" Human Interface Technology, Canterbury University (The Press Biz IT 4-Jun-02, p.C5)
"Apple gives go-ahead to Chch Ultralab plan" (The Press Biz IT 11-Jun-02 p.C5)


Cluster Tools

"The Clustering Process" Alan Koziarski NZTE presentation for CDC-Nutraceuticals

[TeknowledgyTM] + Software + Training ~ InfoHelp link pages

HortWeb + Viticulture


Copyright © Canterbury Technology Ltd.
Edit version: 4:30PM GMT+12 31/01/04